To Our Valued Customers:
  We are open!       
           In the Governor's updated executive order she announced, golf courses in Michigan are allowed to let golfers use carts for play again!
Also, on Tuesday, May 12, we will be opening our driving range back up to the public. We will set our range up to ensure required social distancing and our carts will always be santized to the best of our ability to keep all of our golfers safe.
Lastly, as a reminder, at this time per the order the bar and dining room must still remain closed.
If the restrictions prevented you from getting on the course the last few weeks, we hope you choose to come golf our beautiful course and get your 2020 golf season underway! 
Current pro shop hours will be 8am – 7PM. We are accepting tee times during these hours. Please call 269.657.2777 during pro shop hours or use the online booking engine to book your tee time any time of day.
As a reminder, no outside alcohol will be allowed on the course as per Michigan law. Drinks can be purchased on site. The bar and patio seating areas are still closed at this time per state regulations.
Thank you!
Heritage Glen Staff
Now Offering World Class Private and Group Golf Lessons!
Where the woods meet the fairways
Heritage Glen, built in the mid 1990s, has long been acclaimed as one of Michigan's most scenic courses, set in a well-forested setting in the heart of the state's wine country.
Architect Jerry Matthews has used this landscape to great advantage, creating intriguing holes with a great amount of variety and opportunities for golfers of all levels to test their skills.
A championship course that also offers great scenery along the way. On some holes, thick with pines, you'll feel as if you're in the Northwoods; on others, wide open fairways have a taste of Scottish links design.

Stay up to date. Join our E-Club.
Contact
Phone: (269) 657-2777
Fax: (269) 657-2533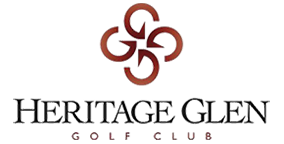 Location
29795 Heritage Lane,
Paw Paw, MI 49079